From fun­ny faces to col­ored butts and floss­ing teeth to thump­ing chests, this fol­low-up to Freaky, Funky Fish high­lights some pecu­liar ways pri­mates look and act to sur­vive in the world they live in.
"Ver­dict: Great for a par­tic­i­pa­to­ry sto­ry time or chil­dren on their own, this book belongs in every library." (School Library Jour­nal)
"The min­i­mal text… will pull in reluc­tant read­ers and also make for a good read-aloud for the very young. The col­or­ful art­work uses a win­ning com­bi­na­tion of accu­rate details, sly humor, and expres­sive, com­i­cal facial expres­sions." (Kirkus)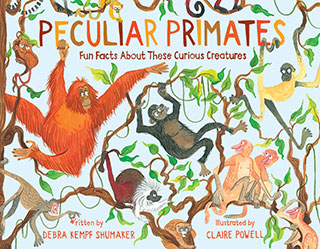 Pecu­liar Pri­mates
Fun Facts about These Curi­ous Crea­tures
writ­ten by Debra Kempf Shu­mak­er
illus­trat­ed by Claire Pow­ell
Run­ning Press Kids, Octo­ber 11, 2022
Inter­est­ed in a signed book? Order from Scrawl Books and note on the com­ment sec­tion of the order form that you would like a signed copy and to whom it should be per­son­al­ized, if desired.